When the Scandal box set dropped on to our mat, my partner took one look and said he'd be having an early night. Seven hours later we peeled ourselves away from the screen, having watched the entire series together back-to-back – but when I report this to Kerry Washington, she doesn't look surprised, just amused. "Yeah," she smiles, "I'm finding a lot of people telling me that. They watch it with their grandmother, or their girlfriend."
Now into its third series in the US, Scandal is the hit creation of Shonda Rhimes, who made Grey's Anatomy. Washington plays Olivia Pope, an elite crisis manager in Washington DC, part lawyer, part private eye, cop and political fixer – a tiny but formidable beauty in stilettos with a gift for getting what she wants out of everyone from foreign dictators to wealthy rapists to the president, with whom she has an on-off affair. ImagineAlastair Campbell and Matthew Freud in Naomi Campbell's body, and you begin to get the picture.
Pope is at once sympathetic and terrifying, and it's a measure of Washington's performance that she has to reassure me she's nothing like Pope in real life. "She's so much cooler than I am, so much smarter, so much more powerful, so much more fearless. I'm not going to tell you about yourself or try to manipulate you." She chuckles. "I'm definitely not her. She is based on a real-life person, though – and that person is pretty badass."
Pope is loosely based on Judy Smith, an African American crisis management expert who worked as a White House press secretary for George W Bush and has since advised clients from Monica Lewinsky toWesley Snipes. She is still a crisis manager, but also a producer on the show. "So it's like, one week she's on set with us, the next she's in an undisclosed location doing work we can't know about." Washington has a conference call with Smith before filming each episode and the show's writers "come up with the most scandalous crisis situations they can think of, then say, 'Judy, what would you do? How would you fix that?'"
This helps explain why, despite the occasional far-fetched plotline and cartoonish cliche, Scandal feels so compelling. Even so, Washington hadn't even wanted to read the script when her agent suggested it. "I thought, a network TV drama? No way, no way. I have a thriving film career."
She's not being immodest: at 36, Washington is poised to make the breakthrough from interesting cinema actor to movie megastar. Her career began in television, with appearances in NYPD Blue, Boston Legal and Law & Order, but soon graduated to cinema. Following roles inMr & Mrs Smith and Spike Lee's She Hate Me, she played Idi Amin's wife in The Last King Of Scotland, Ray Charles' wife in the biopic Ray and Broomhilda, wife of the slave Django, in Quentin Tarantino's Django Unchained.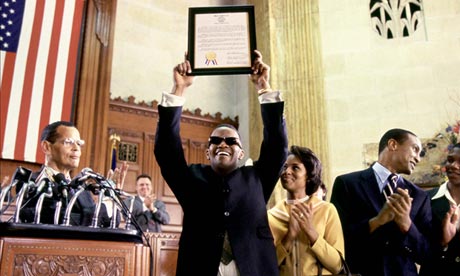 "But then I read the Scandal script and I was like, 'Oh, I'm screwed. This is so good.' Then I got really scared, because I did feel like it was written for me; you know, in some divine way, this was mine. But there were 15 other actresses who felt the same. Shonda auditioned everyone and their mother, because for African American actresses this was the glass slipper – so she let everyone try it on."
Scandal is the first network primetime drama to feature an African American female lead in close to 40 years, and possibly the first ever whose colour is entirely incidental. Pope's identity isn't defined by her skin: she just happens to be black. It is, many critics have raved, the first "post-racial" TV show. Does Washington think it could have been made pre-Obama? "Well, it could have been written pre-Obama, because Judy Smith worked in the George Bush White House. But would it have made it to air? Would people have tuned in? That I don't know."
She is adamant, however, that Scandal is not "post-racial" TV. "I don't believe in post-racial. It's like saying we should live in a post-gender world. But I love being a woman! I am interested in living in a post-sexist world and feel the same about race. I don't want to live in a post-race world because being black is really exciting. I mean" – she laughs – "it's who I am. I'm a woman, black, from New York, Aquarius – these are things that create who I am. I'm interested in living in a post-racist world, where being African American doesn't dictate limitations on what I can do – but I don't want to live post-race. Our differences are so fascinating and wonderful. We don't want to all be the same. Who wants that? Hitler did, but who else?"
She is philosophical about the influence of skin colour on her career. "There are two sides to this coin. I have had, and still do, experiences where someone will say, 'You know, we just don't really see this character as black. We don't want to go black with her.' Some of it I respect, because this is a visual medium, so I don't believe in colour-blind casting. But I think sometimes people make that decision out of fear, or laziness, or just not wanting to have to travel down roads that aren't familiar." On the other hand, she points out that, were she white, she wouldn't have landed her biggest movie roles. "It has its downsides – there have been things I've loved but I haven't been able to be a part of – but it's also had its upsides."
She can't bring herself to single out a favourite role. "God, no." She half-laughs. "Every role is like a child, so I don't like to compare them." But the part of Pope makes particular sense to her because "I've been in politics for a long time".
Washington campaigned for Obama in 2008, addressing meetings across 15 states, and spoke at last year's Democratic National Convention. "Which was the most terrifying thing I've ever done in my life. I looked out at this stadium full of tens of thousands of people and I was like, what am I doing here?" She is a member of V-Day, a global movement to raise awareness of violence against women and girls, and lobbies Congress on issues around the arts. Will she bring to the part skills or ideas learned through her political activism?
"I want to be careful about this," she says quickly, "because obviously I have a very different relationship with the White House than Olivia does, and a very different relationship with the president." She gives a playful but firm grin, before steering the conversation in another direction. "But I do think my knowledge of Washington fashion came to play in establishing her wardrobe, because I wanted to set her apart from the DC norm."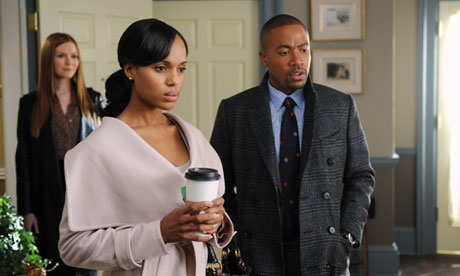 Scandal has developed a US fan base who tune in for the outfits alone, and Washington is closely involved in choosing them. "For me the clothes are as big a part of how a character expresses herself as how she walks or speaks. When you think about the power suit of a corporate woman in the 80s, it was just dressing like a man. Olivia feels thoroughly modern – she is powerful, and at the same time she's flawed and vulnerable behind closed doors, and I love that. I live that duality and I think it's something a lot of us relate to. So Olivia does wear the pants, but her clothes are distinctly feminine: we tailor everything so that you see her waist."
Pope has a "wonderful balance", she says. "She doesn't traffic in her sexuality, doesn't manipulate people with it. But she is aware of the impact of her beauty and not afraid to be beautiful."
Washington herself was ranked among People magazine's 100 Most Beautiful People earlier this year, and is a spokeswoman for L'Oréal, but has no interest in being a sex symbol. In fact, she had always thought she would be a psychotherapist or a teacher, not an actor. "I'm the daughter of a professor, so… well, I think acting's not a real job," she says, laughing. "I come from this sort of academic, working-middle-class family where you make something respectable of your life, do something that matters, and being a starving artist is not that. I always loved acting, but I think for a long time, in my brain, the desire to be an actor was equivalent to the desire to be famous. And I did not want to be famous. I did not want to be that girl. I thought that if you wanted to be an actress, you had to want to be on the front cover of magazines, otherwise you shouldn't do it."
It wasn't until halfway through her degree in sociology and anthropology at George Washington University that she "understood that I could want to be a working actor and it didn't have to include fame. That there were lots of people who made a living doing theatre and a couple of commercials a year, and I didn't have to want to be that girl."
Only now, of course, she is that girl, splashed across the covers of magazines. "That was that theory blown." She giggles, nodding. She has left behind the Bronx of her childhood and moved to Hollywood for work. "But I'm lucky. I come from a really grounded family and I have three best friends from high school who have made it their job to remain unimpressed by everything I do. If I started being superdiva Kerry, they would be like" – she wrinkles up her nose – "what is that?"
She was once engaged, to actor David Moscow, but is now single. And from what she says about shooting Scandal, I would guess her work-life balance may be as elusive as Pope's. "Doing 22 episodes is unlike anything I've ever done, like making 11 movies back to back. I actually called my doctor after because I felt like my adrenals were depleted." But she is guarded when asked, offering only, "Um, yeah, I don't get to spend as much time with friends and family as I'd like. But, you know, my primary relationships I'm very committed to and I find time for them, yeah."
Washington never reads reviews, so took a while to grasp that Scandal had relocated her to a new stratosphere of celebrity. "Looking at ratings is like stepping on the scales, and it's why I never weigh myself. If the number is a number you don't want it to be, then you're miserable, and if it's a number you want it to be, you spend the rest of the day thinking, oh, I should never eat again so the number stays where it is, right? It's just better that I don't get on the scales."
In the end it was her three best friends who let her know. "They are completely addicted to the show and I thought, oh, we have something here. OK, now that's interesting."